Need to know how you can corrupt a pdf file on purpose. Sometimes you just need extra time to figure things out? Dont worry. Read below on how to  corrupt a pdf file on purpose
A PDF (Portable Document Format) file is opened with a PDF viewer. It allows the presentation of documents in a more interactive way. In a fixed layout, it usually contains a unique description of graphics, fonts, and texts.
If your PDF viewer won't open, a common reaction is to think that the PDF file is corrupted. Perhaps, the practical solution is the retrieval of another copy. But, this is not always the case. There are instances when corrupting a PDF file can be done on purpose.
With the trend today, learning how to corrupt a PDF file is handy. Others resort to it as a canny (and less obvious) way of asking for an extension.  It can be advantageous for school and work.
To know how to corrupt a PDF file, simply follow a few instructions.  
Step # 1: With the use of any web browser, visit corruptmyfile.com
Step # 2: Select a PDF file that you want to be corrupted. You can choose a PDF file anywhere on your computer or other uploadable sources.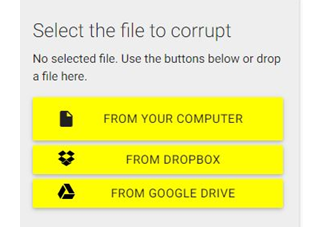 Step # 3: Begin the PDF file corruption. Click CORRUPT FILE.
Step # 4: You will receive a confirmation message of your PDF file's successful corruption. Usually, it just takes a few seconds. Your corrupted PDF file is then available for download.
You can scan the provided QR code to permit download of the corrupted PDF file to phones. In addition, you can download the corrupted PDF file to your Dropbox account or your Google Drive.